Lodging deals under $150 make your trip to Camden, Boothbay, easy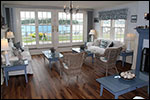 191 Shore Road, P.O. Box 409 East Boothbay, ME, 04544 Phone: 207-633-4200 Toll-Free: 800-552-5554
Discover mid coast Maine value in a resort lodging
Stay at a great rate and enjoy all the comforts, amenities, and ocean views you could want in a seaside getaway. Endless land and sea activities abound and there's great food, shopping and sightseeing in nearby Boothbay Harbor. Set on the top of a rockbound peninsula are classic white clapboard cottages, traditional rooms, and modern guestrooms with picture windows, porches, and balconies to enjoy the magnificent sunsets. Included is a free hot buffet breakfast and resort wide WiFi, private bath, cable TV, mini refrigerator and AC. Cottages and suites also offer a microwave, fridge and coffee maker. The resort's pool is the largest (and heated) pool in the area and the onsite restaurant serves delicious American and continental fare.
80 Commercial Street Boothbay Harbor, ME, 04538 Phone: 207-633-4434
Affordable rates and all inclusive deals on Boothbay Harbor
Great rates and special deals make the Tugboat Inn a favorite and affordable destination for many visitors to historic and scenic Boothbay Harbor. Bring your boat and enjoy the sheltered marina with slips and moorings for transient and seasonal stays. You're on the waterfront with 64 rooms and suites facing or directly over the water featuring air conditioning, 42 inch flat screen television, refrigerator and Keurig coffee maker plus complimentary continental breakfast and Wi-fi throughout the property. The green and energy efficient inn has a full service restaurant, the Marina Lounge & Café with a pub menu and weekend and seasonal entertainment. and a variety of all-Inclusive packages including accommodations, meals and more and vary by room type and location.
31 Atlantic Avenue Boothbay Harbor, ME, 04538 Phone: 207-633-6302 Toll-Free: 800-533-6302
An Affordable Boothbay Harbor lodging with spectacular views
Great rates await at this quaint and charming Inn on Boothbay Harbor. Offering scenic splendor and casual comforts on Maine's mid coast, you'll find 60 spacious, modern, non smoking guest rooms with private balcony or patio with views of the harbor, coffeemakers, flat-screen TVs, fridges, microwaves, free WiFi and complementary buffet breakfast. On site, the waterfront Sunset Bar and Grille offers spectacular views of the Harbor, a festive happy hour, and the chef's own style of fusion of flavors brought to Maine's delicious seafood traditions. Stroll the waterfront and into town for great shopping and sightseeing. Just a short walk takes you across Boothbay Harbor's famous wooden footbridge. The green hotel employs solar cells for part of its energy needs.